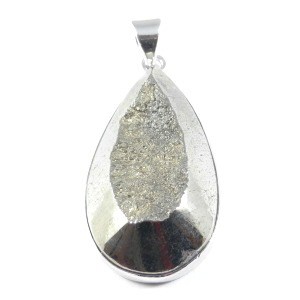 Iron Pyrite Pendant ~ Item A
This is a gorgeous, partially polished piece of Iron Pyrite set in thick Sterling Silver. This mineral is rarely seen in jewellery ~ these pendants have a strong, steady, supportive energy and are unusual/different.
Iron Pyrite is primarily a solar plexus and sacral chakra stone. It is said to be excellent for combating male impotence & fertility issues as well as being good for blood, tissues & infections. Iron Pyrite assists us in taking action to create abundance in our life. Stimulates creativity & manifestation and encourages us to overcome fear, have more confidence and take action. It is also a highly protective stone.
You will receive the pendant in the photograph. Approx 3.8cm long (38mm) X 2.1cm wide (21mm).