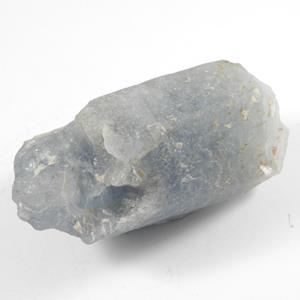 Indicolite in Quartz – RARE – Item F
This is a gorgeous piece of Indicolite in Quartz. Indocolite is the technical name for Blue Tourmaline, which is the rarest of the Tourmaline family and incredibly rare in general! To buy a small piece of pure Indicolite costs a fortune. These pieces are mostly hand held chunks (please check sizing carefully) and once you link to them, it's hard not to keep doing so again and again. This makes sense given it is primarily a spiritual growth and journeying crystal, although it works powerfully on our cognitive thinking too.
So the next best option is to work with Indicolite in Quartz as the price is lower and although still very rare, is easier to obtain once every few years. Finds of Indicolite can happen once in a decade! It is a highly unusual shade of blue ~ it's more blue when growing within quartz and more of a blue with tinge of darker green when it's pure. Indicolite works primarily on the Throat, third eye and upper chakras. It can aid us in speaking our truth and soothe the nervous system, calming anxiety and supporting us in moving into our calm, balanced centre within. I find it an amazing meditation tool. Primarily a spiritual stone that raises awareness, Indicolite aids the growth of our intuition & psychic skills, enhances communication abilities and brings clarity of mind & speech.  It is said to be excellent for mediumship work and connecting with Spirit Guides or higher energies. I've also found it a handy tool for public speaking, meetings and generally any situation we may be in where we struggle to speak up or share our truth.
You will receive the crystal in the photograph. Approx 5.5cm (55mm) long X 2.5cm (25mm) wide.