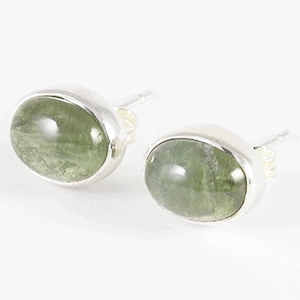 Green Tourmaline Studs – Item A
This is a stunning pair of polished Green Tourmaline stud earrings set in thick Sterling Silver. They are gemstone grade with amazing clarity and energy and extremely hard to source, particularly at this bargain price!
Green Tourmaline works deeply on the heart and emotional system, giving release to old wounds, pain and trauma. This crystal is perfect when healing from emotional pain, learning to love again and finding vulnerability difficult. It helps to bring walls down so we can truly connect with others. It also strengthens the heart and our emotions in positive ways ~ so instead of feeling defensive due to past hurt, we simply feel strong in ourselves and are able to open up a more emotionally.
You will receive the studs in the photograph. Approx stone size 1cm (10mm) long X 0.7cm (7mm) wide.