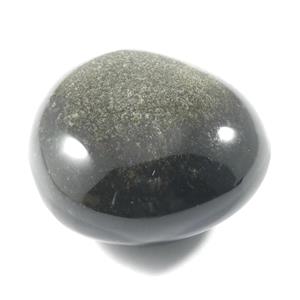 Gold Sheen Obsidian – Item F
A gorgeous, beautifully polished and very shiny piece of Gold Sheen Obsidian with gold, sparkly flash (really hard to photograph!). These are quite large pebbles and have a potent, vibrant energy.
Gold Obsidian is a great tool for stimulating hidden talents and aligns the will of the mind with the will of our soul's journey. It can help you find success by bringing out unique skills and previously undiscovered talents. Gold Sheen Obsidian, like all Obsidians, is very protective and clears negative energies. It also aids the lower back and digestion problems.
Approx 3.2cm (32mm) long X 2.9cm (29mm) wide. You will receive the crystal in the photograph. Apologies for the higher shipping, but these pieces are too thick to post as a large letter, so must post at small parcel rate. If your parcel arrives and has cost under £3 to post, please contact me for an immediate refund of the difference. Thank you.