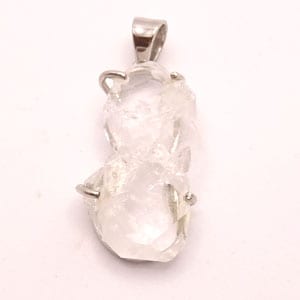 Faden Quartz Pendant – RARE – Item C
This is a gorgeous piece of Faden Quartz set in thick Sterling Silver. I've never seen this mineral in jewellery before as it's quite a rare, unusual form of Quartz to work with.
Faden Quartz is good for breaks in bones, tears in muscles, fractures, severed nerves etc. On a Spiritual level, it is a very interesting tool as it activates links between the physical body, physical chakras and then etheric chakras, in that order. You will feel it physically, then you should feel activation in your chakras, then the energy will go above your head and away from your body into the etheric chakras. Its a strong sensation and an excellent tool for healers, crystal workers or those who like to meditate or astral travel.
Approx 3.1cm (31mm) long X 1.5cm (15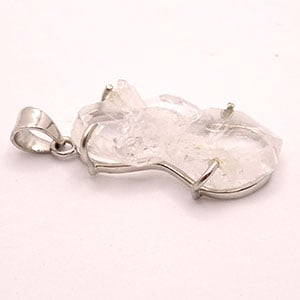 mm) wide from tip of bail to bottom of pendant. You will receive the pendant in the photograph.