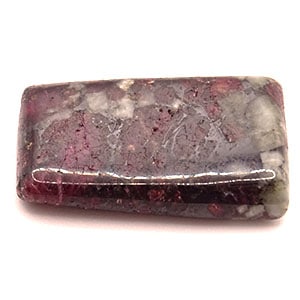 Eudialyte – Slice – Item F
This stunning, polished slice of Eudialyte from Madagascar. It's energy and quality is fantastic! Anything coming out of Madagascar or South Africa at the moment is really singing energetically. Maybe it's because they dig the crystals out rather than blast them, that a lot of the earth's energy is retained and is simply beautiful! These are thick, very stable slices, most of which would easily slip into a pocket, pillowcase or roomy bra.
Eudialyte is a very unusual crystal and also quite rare/expensive so I'm delighted to have sourced these pieces for such a great price. If you would like to read my informative blog on Eudialyte, please Click Here.
Eudialyte opens the heart to healing and allowing love in again. It teaches us how to work with vulnerability in a positive and effective way. Is said to affect brain waves and therefore teaches us how to balance emotions, which then eases our mental energy and opens us up to a better and stronger spiritual connection. Eudialyte aids creativity, manifestation and any issues related to the Base, Sacral or Heart Chakra. Whether that is releasing old emotional energy, working on childhood trauma or issues concerning sexuality or trying to manifest something into physical reality.
You will receive the crystal in the photograph. Approx 3.4cm (34mm) long X 2cm (20mm) wide.