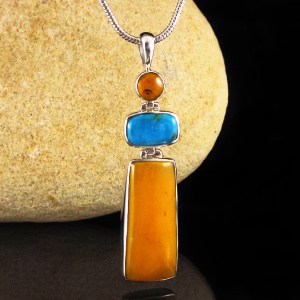 ENTIA – Baltic Amber & Turquoise Pendant
ENTIA Jewellery pieces are one off, unique designs all the way from Australia. Many of the stones are dug from the Australian outback by hand and then turned into the most stunning jewellery pieces! They cost more than the more commonly found Asian jewellery because they are crafted by hand ~ piece by piece ~ as opposed to being mass produced by machine. The energy of the stones, alongside the unique craftsmanship & design, makes these pieces well worth the money as the quality is in a class of it's own. I love the detail given to Entia Jewellery. Each has 'Entia 925' as it's hallmark in tiny writing. It makes these pieces absolutely unique and you know you've bought something made by a true artist & designer.
This pendant is knock out! Crystal clear, sparkly, dark Cognac Amber at the top, a piece of rare, Sleeping Beauty Turquoise nestled in the middle (the mine closed in 2012, so this form of Turquoise is no longer available & incredibly pricey!) and a large piece of creamy Baltic Amber at the bottom. It's a real statement piece and collectible!
Amber is said to amplify healing energy so although it isn't a crystal, the fact that its fossilised tree resin that is millions of year's old makes it amazing. Amber resonates with the energy of our sacral chakra, connecting us to the energy of abundance, creativity and feminine power.
Turquoise is the stone for self-forgiveness, self-acceptance and the release of useless regrets. It is good for protection, communication and travelling and helps to oxygenate the blood & balance our blood pressure. If someone were taking a journey or travelling, I'd recommend wearing or taking a piece of Turquoise. I love that this form of Turquoise comes from a true, Native American area of the USA.
Approx size: 6.6cm (66mm) long X 1.6cm (16mm) wide ~ measured from top of bail to bottom of pendant. You will receive the pendant in the photograph. This is an extra large pendant and the chain is for display purposes only, it does not come with the pendant. Entia jewellery comes in a beautiful presentation box that won't fit through the large letter slot. Therefore, these pieces must be sent as a small parcel. If you'd prefer regular packaging, please let us know when placing your order. We'll immediately refund the excess postage and post the piece in flatter packaging for you.