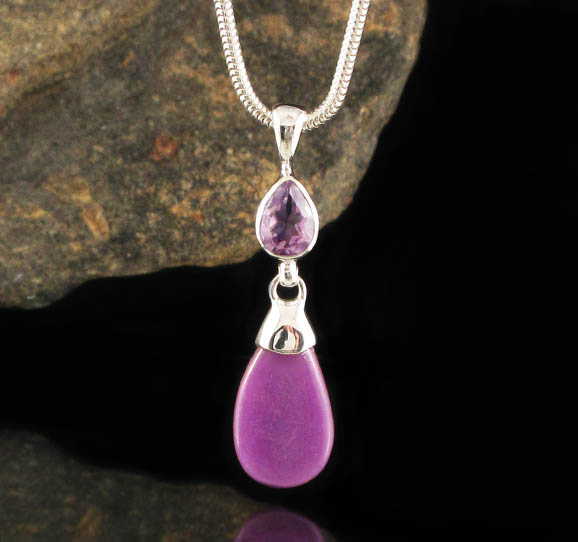 ENTIA – Amethyst & Phosphosphiderite Pendant
ENTIA Jewellery pieces are one off, unique designs all the way from Australia. Many of the stones are dug from the Australian outback by hand and then turned into the most stunning jewellery pieces! They cost more than the more commonly found Asian jewellery because they are crafted by hand ~ piece by piece ~ as opposed to being mass produced by machine. The energy of the stones, alongside the unique craftsmanship & design, makes these pieces well worth the money as the quality is in a class of it's own. I love the detail given to Entia Jewellery. Each has 'Entia 925' as it's hallmark in tiny writing. It makes these pieces absolutely unique and you know you've bought something made by a true artist & designer.
This is a gorgeous little pendant and feels very opening and supportive on an emotional and spiritual level. A crystal clear, sparkly piece of faceted Amethyst sits on the top, with the most stunning, creamy, cabachon of Phosphosphiderite at the bottom.
Purple Amethyst supports people in stepping onto a spiritual path. It's why it's the first crystal for many and can ignite a spark within us that connects us to our Soul. Not only that, it keeps us aligned with our Soul Purpose and truth, which is why we can be drawn back to it again and again over the years. If you feel like you've veered off your path at any point, reach for Amethyst and it will slowly move you back in the right direction. Amethyst remains one of the most gentle, yet powerful crystal tools to help open our Third Eye Chakra or begin a new stage of spiritual development and growth.
Phosphosphiderite works mainly on the Heart and Third Eye chakras, bringing us emotional support and love on our spiritual path.  On a physical level it is said to ease depression, soothe the nervous system, calm anxiety and ease skin inflammation and disorders. Phosphosphiderite is a lovely crystal that opens our heart and allows us to release fear around showing weakness or being vulnerable with our feelings. This is a soothing, calming, supportive mineral that makes us feel emotionally safe enough to take a leap of faith. It aids our spiritual growth, but in a gentle, measured way so we don't become overwhelmed. It is incredibly soothing, calming and aids our connection to the Universe so we can receive intuitive guidance that enables us to feel supported on our path.
Approx size: 3.6cm (36mm) long X 1.1cm (11mm) wide ~ measured from top of bail to bottom of pendant. You will receive the pendant in the photograph. This is a small sized pendant and the chain is for display purposes only, it does not come with the pendant. Entia jewellery comes in a beautiful presentation box that won't fit through the large letter slot. Therefore, these pieces must be sent as a small parcel. If you'd prefer plain packaging, please let us know when placing your order. We'll immediately refund the excess postage and post the piece in flatter packaging for you.