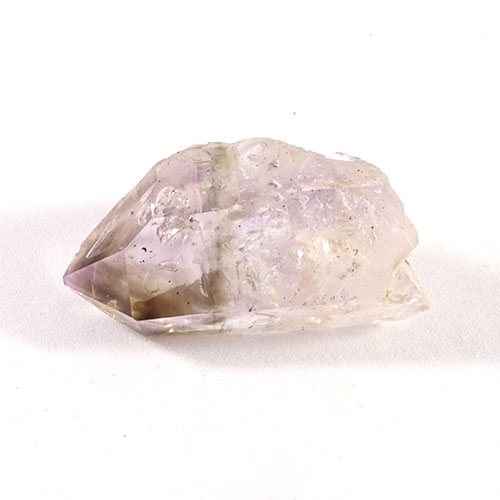 Enhydro Brandberg – Item B
Categories
A, A-Z of Crystals and Minerals, Amethyst, B, Brandberg, C, Clear Quartz, Crystals
Tags
bliss, communication, healing, inner child, journeying, joy, psychic abilities, spiritual growth, tantric twin
The photos really doesn't do these stunning Brandbergs justice! A fabulous energy and crystal to work with on a regular basis to develop both personally and spiritually. These pieces are rough, straight as they come out of the ground, so occasionally have knocks to them, but are the highest, clearest grade we can source and each is unique. Enhydro crystals are incredibly rare. They contain water bubbles that formed millions of years ago and work to release outworn or negative emotions so that our vibrations can rise higher. The bubble within this crystal moves and is very easy to see with the naked eye. There are also whisps of Amethyst and Smoky Quartz within and the energy is knock out!
Brandberg Quartz is unique to Namibia.  They are named because of the mountain range they are found in. The Brandberg Mountains are located in Damaraland, in the northwestern Namib Desert, near the coast.  Brandberg crystals are all mined by hand without the use of any power tools or excavation machines and are said to be some of the oldest quartz based crystals on earth, approximately 133 million years old!  They are found in beds near to the surface.  Compared with normal quartz, Brandbergs don't get that large. Brandbergs over 2 inches are rare.
Energetically, Brandberg crystals bring balance, peace and then bliss.  They transport us to the space that is always present in our heart that we often forget is calling us.  Though our messages can be ignored by our daily busy-ness, holding a Brandberg crystal opens us up to all that is and connects us to the Universe.  The longer we sit with one of these amazing crystals the bigger the space becomes and states of bliss, laughter and down right silliness start to occur as our child like wonder, fascination and curiosity surfaces.  Expansion, joy and ease are the blessings that flow out of these magical crystals.
All Brandbergs are a useful aid to multi-dimensional spiritual work. They assist in looking within and traversing the spiritual planes to gently break old patterns and ties.  This high-vibration crystal is an indispensable aid for healing and journeying and for exploring  the Universe through meditation and intuitive, spiritual practices. It brings to us a purity of vibration and intention that came before any imprinting from earthly incarnations. Emanating infinite compassion to all of creation, Brandbergs bring about deep soul healing and forgiveness.
This amazing crystal also speeds recovery from illness or accident and is excellent for house clearing. A Smoky Brandberg is the finest tool available for removing implants, attachments, spirit possession, negativity or unwanted external influences. An Amethyst Brandberg is amazing for spiritual development! Enhydro Brandbergs work on our emotions, fast! Brandbergs are the stone par excellence for transformation or transition.
You will receive the crystal in the photograph. Approx 3.5cm (35mm) high X 1.8cm (18mm) wide.