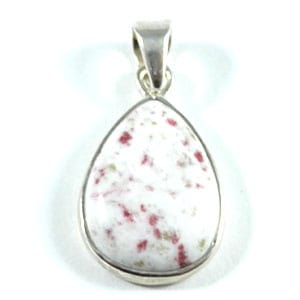 Cinnibar In Quartz (Cinnazez) Pendant – RARE – Item C
This is a lovely polished piece of Cinnabar in Quartz set in thick Sterling Silver. It's highly unusual to find this mineral in jewellery. I like this crystal in quartz as it can be a little unusual to work with, so the quartz amplifies, but also softens the fire. Cinnabar is also quite rare so this is the perfect way to work with it on a consistent basis. Always take it off when bathing or in water. It won't harm the stone, but may dull the high polish of the stone.
This stone has also been 'trademarked' as Cinnazez, but Cinnazez is simply Cinnabar in Quartz so it's exactly the same thing ~ only with a trademarked, 'marketing' name and matching inflated price tag!
Cinnabar is a fire element stone, so is great for clearing infections, stimulating our immune system and purifying blood. Cinnabar is a powerful stone for spiritual alchemists, transformation and magical manifestation. It allows us to accept our physical form and the human elements of our life that we must live with, even if they aren't ideal. It also works great on keeping us motivated and fired up when we're going through times of change that tire us out.
You will receive the pendant in the photograph. Approx 2cm (20mm) long X 1.5cm (15mm) wide.