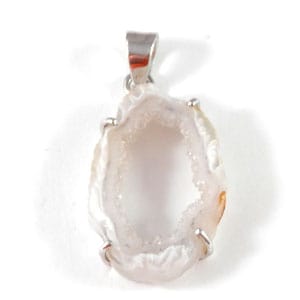 Chalcedony Pendant – RARE – Item A
This is a highly unusual, completely natural geode slice of pure Chalcedony. Such a gorgeous, soothing, uplifting energy. The black pendants feel slightly more grounding than the white or cream and a tad stronger in energy.
Chalcedony is said to ease ailments of the circulatory, renal and nervous systems. It works primarily on the heart & third eye chakras, but also brings our heart, mind and Spirit together, encouraging us to open our hearts and connect to the Divine. It helps us to smooth out relationship issues and bring us to a place of trust in ourselves, the divine and other people. A stone of optimism, light energy, joy, surrender and acceptance. A truly lovely energy to work with.
You will receive the pendant in the photograph. Approx 3.2cm (32mm) long x 2.1cm (21mm) wide from tip of bail to base.