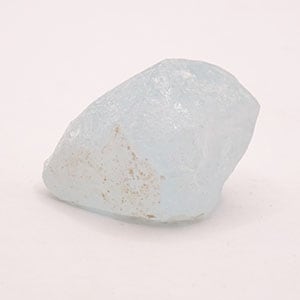 Blue Obsidian – RARE – Natural – Item J
To all of those whom question whether Blue Obsidian is a natural stone….look no further. Yes, China has learned how to make a synthetic copy, which isn't far removed from glass, but there IS natural Blue Obsidian in the world and this piece comes from the Atlas Mountains in Morrocco. If you would like to read my blog on Blue Obsidian, please click here.
Its extremely rare to source Blue Obsidian in its raw form, straight from the earth. I have left a little bit of the dirt and residue on these pieces rather than clean them to sparkling, so it can easily be seen that they are natural. You can wash it off under a tepid, running tap and use a soft toothbrush or nailbrush to clean it if you wish. This won't damage the mineral as it is a super hard/strong form of natural volcanic glass.
Blue Obsidian is a form of volcanic glass that is good for the circulatory system, prostate, heart, blood pressure and eyes. In cases of Alzheimer's disease, schizophrenia or multiple personality disorder, Blue Obsidian can bring mental clarity. It soothes the nervous system and eases anxiety.
Blue Obsidian can also assist in finding the hidden factors around situations so that right action can be taken. It clears the mind of clutter & confusion. It aids easy and positive communication in relationships and groups, so is excellent for dealing with the public or for public speaking. Blue Obsidian is also a gentle spiritual development tool as it clears the mind to receive information, then allows that information to be easily and simply communicated. it is also very protective.
Approx 3.5cm (35mm) long X 2.5cm (25mm) wide. You will receive the crystal in the photograph.