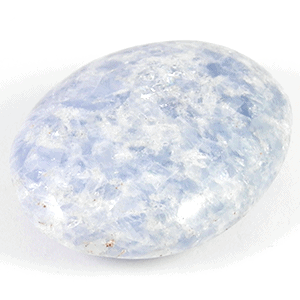 Blue Calcite Palmstone – Item B
This is a stunning polished Palmstone in Blue Calcite. It has beautiful, ethereal colour and shimmer and the energy of these pieces is exquisite! These palms are extremely tactile, sitting in my palm perfectly and am just able to close my fingers around them.
Blue Calcite is said to be great for recuperation after trauma, an operation or time in hospital. It clears congestion in respiratory system & encourages oxygenation so is good for any respiratory illnesses. Blue Calcite aids clear communication & is a sedative to the nervous system, soothing emotions and the emotional body. It also enhances intuition and aids positive thought processes. I pop mine in the bath every time as the energy is wonderful to relax in 🙂
You will receive the crystal in the photograph. Approx 5.8cm (58mm) long X 4.4cm (44mm) wide. Apologies for the slightly higher shipping, but this piece is thick/chunky so has to post at small parcel rate.