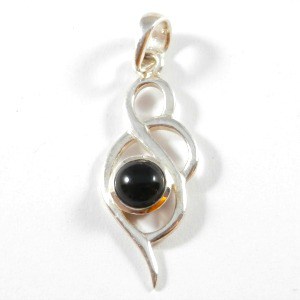 Black Onyx Pendant – Item A
A really unusual Black Onyx pendant set in thick Sterling Silver. It is quirky by design and extremely supportive in it's energy.
Black Onyx is the stone for worriers. If you worry constantly and find it hard to soothe the mind and nervous system, it is the best crystal in the mineral kingdom. Black Onyx aids us with our determination, allowing us to focus on the task at hand. It is grounding stone that allows us to 'let go' and process situations that are challenging or difficult. Black Onyx supports us in releasing old attachments to people, places or situations. Black Onyx pulls us into our centre, into the adult side of ourselves and ensures that we are open to Universal guidance and energy. Black Onyx absorbs rather than deflects negative energy, particularly from other people, so is great for protection from negativity, but it must be cleansed every few days.
You will receive the pendant in the photograph. Approx 2.8cm (28mm) long X 1.2cm (12mm) wide.