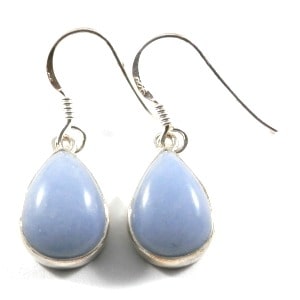 Angelite Earrings – Item A
This is a lovely pair of dangly earrings in Angelite, set in thick Sterling Silver. Finding jewellery in this mineral is incredibly difficult and these pieces have such a beautiful, soothing, anchoring, but uplifting energy.
On a physical level, Angelite is said to heal the skeletal system, bones and calcification in joints. On a spiritual level, Angelite helps one to communicate in a clear, concise way and to draw down information from Angelics and Higher Energy sources. Very gentle and peaceful, a good crystal to use if you are just starting to connect to your higher self. If you're already in tune with your higher self, then Angelite brings for creative ideas and widens perceptions of events, allowing us to see the bigger picture. It is such a calming, comforting crystal.
Approx stone size 1.4cm (14mm) long X 1.1cm (11mm) wide.  You will receive the earrings in the photograph.