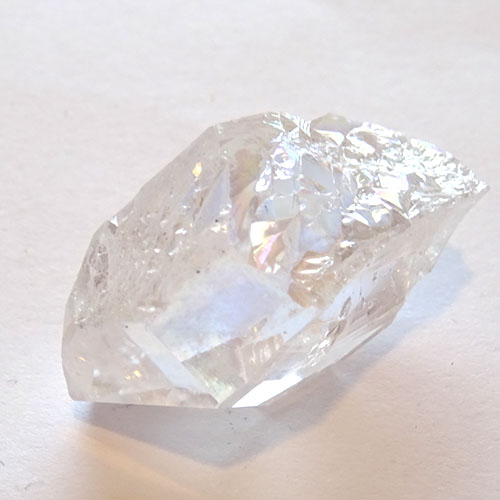 Angel Aura Quartz Cluster – Item G
This is lovely little cluster of the beautiful Angel Aura Quartz. The clarity and energy are simply outstanding in all of these clusters and I've listed a wide range of sizes and shapes to suit individual budgets. Each piece is unique, so you will be drawn to the piece that can support you the most on your journey. This is the last of the original Aura Quartz stock from the USA. The price has now quadrupled and most are buying the very cheap aura quartz from China instead. I can only warn against the Chinese aura quartz as the fusion with metals is not undertaken correctly, so the surface will rub off and tarnish within a year.
If you would like to read my informative blog on Aura Quartzes, please click here.
This is top AAA grade Brazilian quartz that has been permanently bonded with a layer of pure Platinum & silver. The colour will NEVER fade or come off. It is an explosion of rainbow colours and energy! Its hard to capture how many colours this piece exhibits. Aura Quartz points are almost twice the price of clusters due to the amount of precious metals required to coat them properly all the way round. Angel Aura Quartz facilitates wonderful Angelic connection. This is absolute top quality!
Angel Aura facilitates connection with our higher selves, with the angelic realm, with spirit guides and is a fantastic meditation tool. Angel Aura soothes the mind, emotions and spirit – it releases stress and allows us to relax into a quiet space. A good learning tool if you're working with a new set of cards as it allows us to become still, forget the worries of the day and connect peacefully to where knowledge is held. 
You will receive the crystal in the photograph.   Approx 2.5cm (25mm) long X 2.1cm (21mm) wide.