Hello There
Following on from the HUGE success of last year's Pounds for Puppies spiritual, online auction, I am running another one this year.  The way it works is:
An album of auction items is released on my Facebook page at 9am on Thursday March 26th.
In the auction album are tons of STUNNING holistic items such as crystals, jewellery, astrology readings, tarot readings, therapies, paintings, spiritual artwork and much much more.
Each item comes with a full description, sizing, postage fees if they apply and as much information as I can provide. All of the items can be sent overseas, so this auction is International. The item will have a start price and bidding continues until the end of the auction. If you've ever used eBay, its exactly the same principle. The person with the highest bid when the auction ends is the winner!
Most of the items are very unique or special in some way. Many of them have been especially created and donated for this specific cause, so are one off, uniquely designed pieces. Every item will have a start bid that is at least 70% lower than the retail price.
The auction runs until

9pm on Sunday March 29th

.
ALL of the money raised in this auction is going to the ACTIN charity.
ACTIN are an animal welfare and protection charity based in Spain whom rely solely on donations. They not only end up with lots of puppies and rescue dogs to care for and re-home (even though this is not what they are supposed to do!), but are also fighting cases in court to actually change laws and make a huge impact on the welfare of animals in Spain.
One such case is that of over 1000 open wells all over the Murcia region. These are very high, brick wells that the rest of Spain has deemed dangerous and closed off. However, in Murcia, this is not the case. Children can climb up them and fall in. What is absolutely horrific, is people are taking dogs they no longer want, hoisting them up over the top of the high well walls and dumping them deep down in the bottom of the well to die. I don't need to tell you that this is not a humane death on any level. ACTIN have rescued several dogs from this situation already this year, one of which is Annie (pics below showing her rescue and at the vets afterwards).
The particular well Annie was thrown down is very high up and difficult to access. Luckily for Annie, a family happened to walk by and one of the children threw a stone in and heard Annie's cries. They told a neighbour two days later and that neighbour told someone connected to ACTIN.
ACTIN went and investigated and discovered that Annie was still alive!! It took a further two days to get her out because of the difficulty with the terrain and the height of the well, which meant the rescue vehicle couldn't get near it. Annie was in that deep, dark well for at least four days, swimming around before she could be rescued. The firemen and authorities in Spain don't usually help with cases like this, but recently in this area they have begun to take it more seriously because of the awareness ACTIN members have created.
Part of the funds from this fundraiser will go towards ensuring these wells get shut down so no more animals can be cruelly dumped! Annie was brought to safety and was in shock for weeks. She is still extremely nervous, but has now settled into her foster home and we hope she will continue to recover enough to be able to go to a home in France later in the year.
Moli was another dog that was rescued from a well this year and is now safe in a wonderful home in Holland. If you'd like to read more on the the stories of these two beautiful dogs, please Click Here. It truly sickens me that because this is a region that isn't very populated, people think they can throw their dogs down a well like a bit of rubbish and leave them swimming for days, desperately trying to survive, before they finally collapse and drown! They think it's OK as no one will hear them cry!! It is only by sheer luck that these two dogs were heard. How many more have gone unheard and met a terrifying, horrific death?
We can stop this. Taking part in this fundraiser and raising money to support ACTIN can stop this!! And I promise I'll blog with follow up stories after the event too. You WILL know that something you've taken part in to help animals has been a success.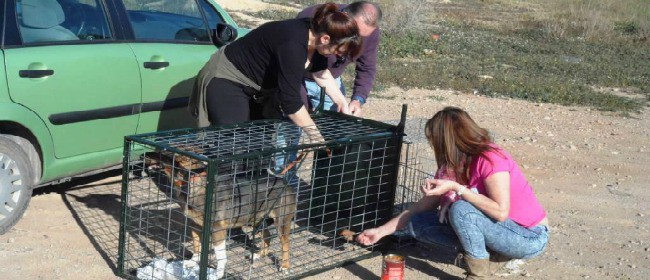 We're also helping some gorgeous oldies this time round too. There are always puppies being dumped and needing new homes, that is never ending! However, there are a LOT of damaged or older animals out there too that need our help. We can't always fall for the cuteness of youth!
One of these older dogs is the mummy of my rescue puppy, Lara, whom has been named Nan. If you took part in the last auction, many of the puppies we were trying to help were part of Nan's litter. Nan was living on the streets in the wild and had fallen pregnant…again!!! A special trap and cage had to be sourced and it then took three people many man hours to get Nan into it and finally rescued (see pic above). Her pregnancy had to be terminated as she was carrying another 14 pups!!
Nan has now been sterilized and is being cared for by a wonderful volunteer, but it costs Euro 3.50 per day to keep a dog and no one has come forward to offer a home yet. Between myself and another volunteer, we've paid for two months of care and food for Nan, but funds need to be raised to look after her and many other animals until homes can be found for them. As any rescue volunteer will tell you, they often end up keeping the dogs that no one wants as they just don't have the heart to put them in a pound or back on the street.
So whether you are touched by these stories and love animals, or are simply a lover of holistic, spiritual sparklies, jewellery and goodies, there are some extremely good reasons for taking part in this online event! I've even had one kind lady donate some antique, vintage gemstone jewellery that was left to her by her mum and another, wonderful friend, has donated his entire crystal collection! And that man has taste, I can tell you. Every single piece is jaw dropping quality….and will have start prices of a pittance!
If you would like to join in, please Click Here and join the event on Facebook. If you have any problems doing this, please just drop me a line.
Even if you can't take part in the auction, it would help us HUGELY if you could share this blog with anyone you think might be interested and invite people to the auction. FORWARD it on via email, SHARE in on Facebook, TWEET about it, TALK to friends about it, INVITE friends online and then chase them up if they haven't joined the auction yet (as loads of people don't look at their event invitations very often).  ANY action you take helps immensely and I would be SO grateful!!
There have been so many TOP QUALITY items donated that the more people we have taking part, having a laugh and being part of something bigger than themselves…..the more money & awareness we can raise.
Have a wonderful week and thank you for taking the time to read this blog. With lots of love and the brightest of blessings
Krissy XXX