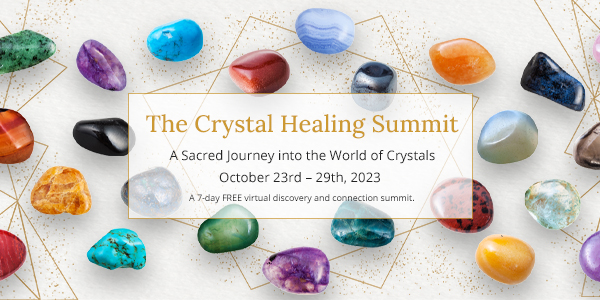 Welcome to the information on the 2023 Global Crystal Healing Summit. It is a huge honour to be invited to be a speaker & creator at this years event. I am eternally grateful to and appreciative of our organiser, Saralee Hofrichter. It takes a LOT to coordinate a global summit and Saralee certainly deserves a huge boost of gratitude and love for doing so.
Since first touching a meteorite called Moldavite, back in 1990, and feeling the strange tingling/burning sensation run through my body ~ my own journey with crystals has spanned 30 years. Serendipity Crystals started off as a rickety little table of crystals being sold at a car boot sale. I'd suffered a debilitating back injury that meant I couldn't sit down at a desk in my corporate job any more. So, standing up at small events such as car boot sales or tiny craft fairs at schools and churches was one of the only ways I could support myself and young son. Little did I know that those events would get bigger and bigger until eventually, I was travelling nationwide to exhibit in London, Manchester and then overseas. In 2011, I met my partner and with four children between us, decided to stop doing events and instead, take Serendipity Crystals online. This meant I could be at home every weekend and spend more time together as a family.
Since then, I have supported and taught 1000s of people about the magical energy of crystals and built Serendipity Crystals into one of the most successful, online sources of up to date crystal information in the UK. Please feel free to explore the blog section as I am continually guided to blog about many new crystals or crystal blends that hit the market, as well as many of the old and trusted favourites. There are also blogs on how to choose crystals, why you'd want to work with them, what crystals to use for various situations and emotions, how to cleanse & charge them, meditate with them, build crystal grids and what all of the different crystal formations mean etc. There is also an extensive A-Z of Crystals and A-Z of Ailments & Issues ~ so you can either search for a particular crystal or search for a particular issue and the system will bring up all of the crystals that can help with that issue. At the bottom of the Homepage is the search engine to see what crystals are in stock (I'm known for high quality, cost efficient, strange & peculiar pieces) and you can also register to receive my free Easy Guide to Working with Crystals.
For the 2023 Summit, the intuitive guidance was clear ~ to provide content that is a true 'uplevel' to those whom may have been working with crystals for many years now ~ or have previously attended the Summit and would like a deeper dive into how to work with them.
One of the questions I'm asked most often is: 'Once I've got my crystals, what do I actually do with them?' and that is a GREAT question.
For most of us, when we aren't using our crystals, they simply lie around our home in various bowls, on bedside tables, windowsills and shelves. In my own home, this is not the case. Each crystal is positioned very carefully and deliberately around the home to minimise or increase energy in very specific ways.
For this year's summit, I have created a video and PDF document that guides you through three separate energy practices ~ manifestation, feng shui and using crystals within the home for specific benefits. You will be guided through the most important factors of these three, separate elements and how to bring them all together in a way that ensures yourself, your home and your crystals are all being utilised in a way that brings good energy, great value and some sparkly magic to your life.
This workbook accompanies my teachings that will be shared on day 5 of the Crystal Healing Summit (27 October 2023)
I hope you enjoy the experience. Please feel free to reach out should you require any further support, understanding or guidance on how to work with crystals.
With Love and Brightest of Blessings
Krissy Hodges
Register for the FREE 2023 Crystal Healing Summit by Clicking on the Image Below