The Geminid meteor shower is one of the finest meteors showers visible in either the Northern or the Southern Hemisphere and radiates out from the constellation of Gemini, which can be seen on the below picture. Find Orion's belt in the sky and look directly above it.  This year, regardless of where in the world you are or which hemisphere, this meteor shower will be clearly active and visible.
There are a lot of meteors in the Geminids, almost as many as the Perseids in August.  During the height of the meteor shower, there are as many as 120 meteors per hour.  The Geminids are said to be debris from the Earth crossing the orbital path of the asteroid 3200 Phaethon.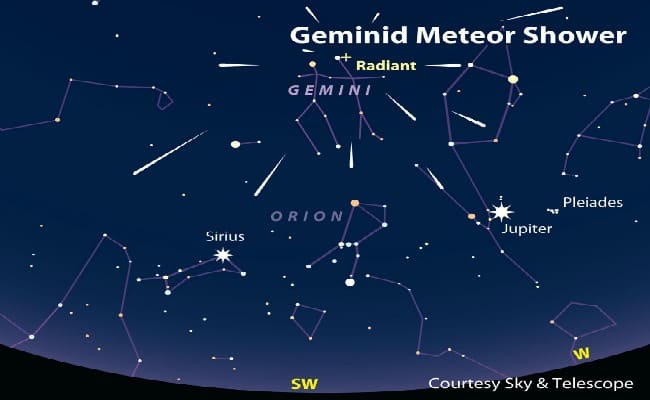 The best time to see the Geminids will be on the nights of 13th and 14th December between 9pm and 4am.  The peak is expected on the 13th this year and the best viewing time is 2am, regardless of where you are in the world or what timezone. If it is 2am where you are, you'll hit the absolute peak of this shower.
The Geminids last all the way through to 24 December, so keep your eyes turned to the sky late at night and you might catch a beautiful shooting star.  Unfortunately, we've got a Full Moon this year on 14th December, which provides a lot of light in the sky, but there should still be plenty of visible meteors!
This is the last meteor shower of the year ~ the next being the Quadrantids in January 2017 🙂
Bright blessings
Krissy XXX