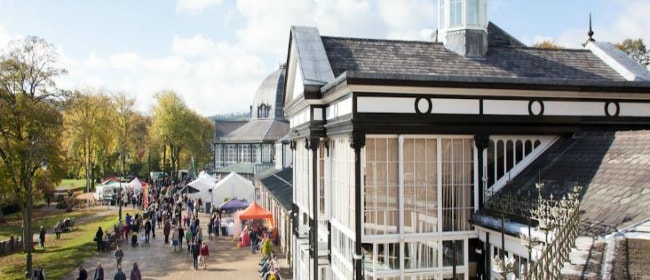 The Easter Extravaganza is an event not to be missed!
Spread over four days: 14 – 17 April from 10am – 5pm. This is a FREE EVENT. 
The Promenade and Gardens Marquee will be a lined with beautiful and quirky stands. Including jewellery, designer clothing, artwork, local food/produce, glass, silk, pottery and  so we are sure that you will find something that you will love whether you're indulging yourself, a loved one or simply browsing. Great local food is always at the heart of the Pavilion Gardens and situated in the main building is the fantastic Pavilion Café and Art Café. This includes a children's play area, microwave facilities, high chairs and our staff are always on hand to find some crayons so the little ones can draw on our unique kids menu (see food and drink portion of the website) our Café also has a large bar area sourcing local beers from all over the High Peak.
Our kitchen serves only the freshest locally sourced food all home made and made to order so we guarantee we can offer something to please even the fussiest of eaters. Our Art Café offers something even more special the same menu and dining experience as standard but with beautiful views over the Promenade and Pavilion Gardens window seats go quickly (The Art Café is normally open during weekends at busy times). In addition to scenic views of the Art Café we also feature different artists and all their work is on display in the Art Café which is also for sale. See Tourist Information for enquiries for art work.As well as our Café and Art Café situation to the right of the main entrance is our Coffee Bar serving only the best fair-trade espresso and fresh cakes this is the perfect place to stop for a speedy bite to eat. The Coffee Bar also has some great outdoor seating areas so you can get a front row seat of all the fun and games that's happening on the Promenade.
A series of different street food stalls will also be featured on the Promenade with food inspired from all over the world. From Thai to Mexican we are sure you will find something to satisfy your cravings you won't be leaving us over the weekend with your tummy still rumbling.
Finally after exploring our beautiful grounds and finding the perfect meal there will be plenty more things to do and explore. Including donkey rides, ferret runs, falconry display, children's rides, family circus workshops and much more. All of this will be accompanied by the sound of great British brass bands and also the fantastic Pantonic All Stars Steel Orchestra.